RusselSmith Obtains NUPRC Approval for Nigeria's First Industrial 3D Manufacturing Solution for the Oil and Gas Industry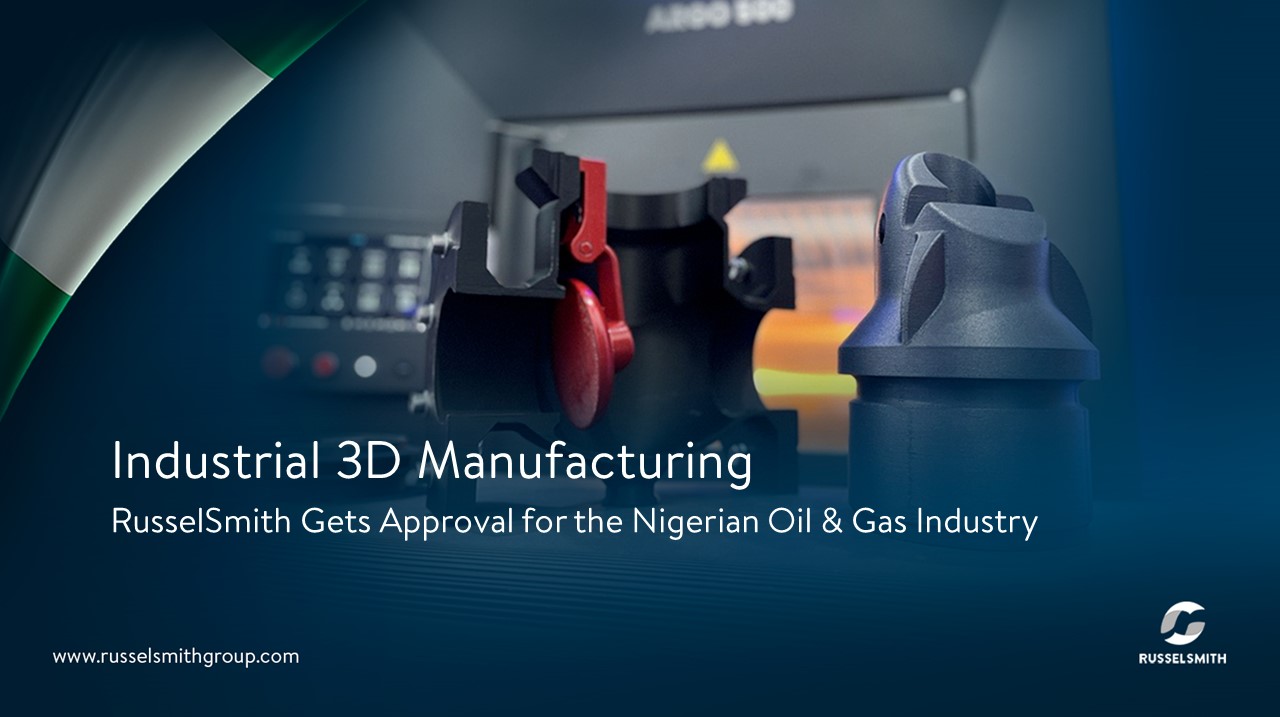 The Nigerian Upstream Petroleum Regulatory Commission (NUPRC), led by the Commission Chief Executive(CCE), Mr. Gbenga Komolafe, recently granted RusselSmith approval to deploy its industrial non-metallic additive manufacturing solution in the Nigerian oil and gas industry.
The additive manufacturing solution from RusselSmith utilizes advanced 3D printing technology to produce fully functional and corrosion-resistant industrial components locally, in a fraction of the time that it would take oil and gas companies to order such parts through traditional supply chain methods. It offers significant time savings and cost savings, in addition to substantially reducing companies' carbon footprints and making their operations more efficient.
Additive Manufacturing is a rapidly evolving space, and the technology has the potential to solve many of the supply chain challenges in Africa, as the continent has a significant number of industries that use heavy machinery in sectors such as manufacturing, oil and gas, medicine, and transportation, and relies on part manufacturers across the world.
Delivered in partnership with Roboze, a renowned provider of Industrial 3D Printing systems, RusselSmith's manufacturing solution is not only a response to prevailing supply chain challenges in the region but is also intended to help advance manufacturing in Nigeria through technology innovation, digitizing the supply chain by leveraging additive manufacturing technology to optimize production processes.
Speaking on the approval, RusselSmith's CEO, Kayode Adeleke said, "This is a new milestone in the Nigerian energy sector, and we are excited to be leading the charge in industrial 3D manufacturing. We are also proud that the NUPRC has once again exhibited its role in the industry as not just a regulator, but a facilitator of business in Nigeria. We are building the foundation for a digital supply chain across Africa, and this is just the beginning. With this approval, our non-metallic additive manufacturing solution is now operational and available to service the needs of the Nigerian market".
RusselSmith's additive manufacturing solution utilizes high-performance materials such as super polymers and composites to produce finished parts that are less susceptible to material degradation and corrosion. Super polymers are ideal for diverse applications because they can endure extreme conditions without compromising their functionality and desirable properties.
"We at Roboze are proud to be associated with this innovative development," said Alessio Lorusso, CEO of Roboze. "The approval by the NUPRC for the use of this additive manufacturing technology is a significant step forward for Nigeria's energy sector in embracing digitalization, and we are fully committed to supporting our partner, RusselSmith, with our expertise and global network to ensure the success of this solution." With its extensive technical capabilities and access to Roboze's wealth of experience and its global 3D Parts Network, RusselSmith is set to accelerate the development of best practices for industrial 3D printing in the Nigerian oil and gas industry.